AIGA The Show 2017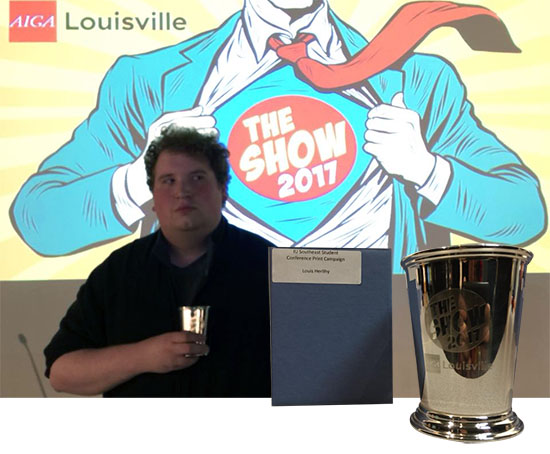 Congratulations to graphic design student, Louis Herlihy for winning an award at the AIGA Louisville The Show for his Conference Print Campaign for the Indiana University undergraduate student conference. The ceremony took place at the Kentucky College of Art & Design at Spalding University on Dec. 6, 2017.

AIGA Louisville.
One Condoms wrapper winner
A native from Corydon, Indiana, Bethany Barton is a Printmaking major at the IU Southeast Fine Arts program who recently won a national condom wrappers design organized by a company based in Boston, MA, called One Condoms.
What started as a class assignment which required every student in Intro to Graphic Design 1 to submit their packaging design ideas to the competition back in April of 2017, became a succession of wonderful news as she advanced from the top 100 to top 50 after a series of online voting and jury picks. When her design was advanced into the final 8, it became one of the eight designs selected to be turned into an actual product. Bethany's design, 'One Hit Wonder' was selected in early September of 2017 as one of the eight final winners. She will be awarded $200, a year's supply of condoms featuring her design and she also gets to donate 5,000 ONE condoms to a non-profit health organization of her choice based in the U.S. or Canada.

Together with her other three classmates, the following three designs managed to advance into the top 50. Also shown here works of other students when displayed in the hallway during the spring 2017 semester at IU Southeast, New Albany, Indiana.

Design One Contest.
13th Annual IU Southeast Student Conference
On April 21, 2017, during the 13th Annual IU Southeast Student Conference, Sydney Powell, a BFA Graphic Design major who was enrolled in an Independent Study with during in the spring 2017 semester presented her poster for pattern design titled "Psychology of Pattern Design and Findings." Sydney has since graduated and is working as a graphic designer.
For more information about the event, click here.
Chancellor's Award for Creative Achievement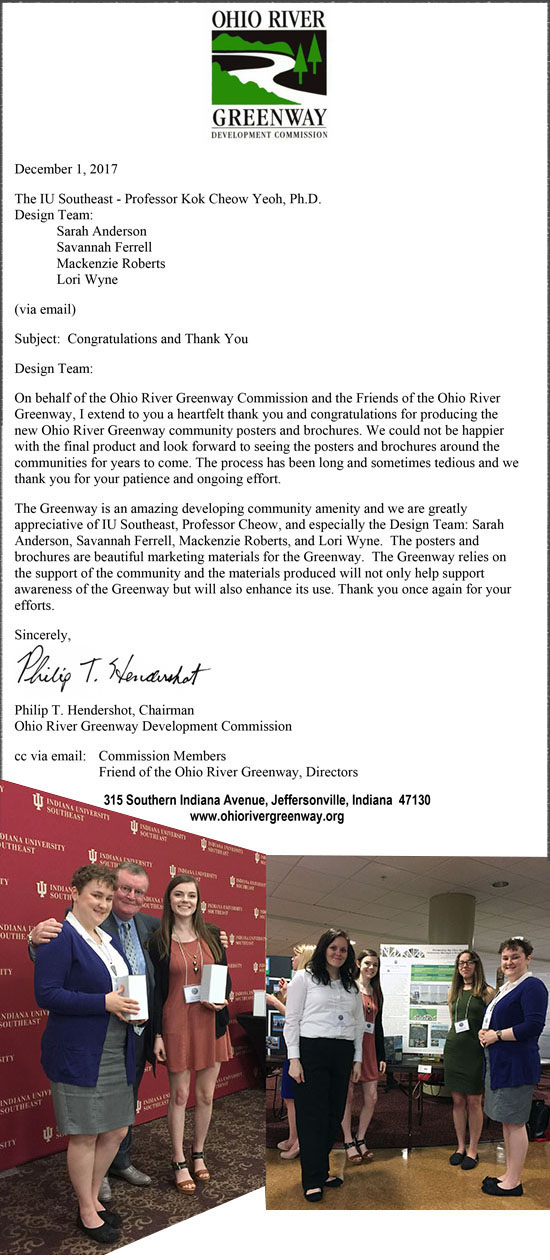 Research is important as part of improving how students can better solve their design problems. By integrating the research component into the entry level class, Intro to Graphic Design 1, students are exposed to the different ways to go about searching for not an answer but answers to their design problems. As an extension for an assignment for my Graphic Design I course at Indiana University Southeast, their assignment was repackaged into a poster session submission for the 13th Annual IU Southeast Student Conference on April 21, 2017. The four undergraduate students won the Chancellor's Creative Achievement award, shown here on the upper left where Mackenzie and Sarah had posed with the chancellor of the IU Southeast, Dr. Ray Wallace.

Some eight months later, we received a letter from the Chairman of the Ohio River Greenway Development Commission, Mr. Philip Hendershot thanking us for producing the posters and brochures which would be "around the communities for years to come."
For more information about the Ohio River Greenway Development Commission, click here.
2017 Annual Juried Student Art Exhibition

The opening of the annual juried student art exhibition at the Ronald L. Barr Gallery at Indiana University Southeast at 5 PM was also a joyous day where awards in different areas were handed out to student winners. I presented an award to Kacey Beardsley Slone on January 24, 2017, for winning the studio award for graphic design for a poster she created from her BFA graphic design course from last semester for a real band called On The Up & Up. The chancellor of the university and the dean of the School of Arts and Letters were also present to hand out awards to winners.
YEOH AS EDUCATOR

- MY STUDENTS' CREATIONS
- MY WRITINGS



Select below to view my students' awards as well as their creations from Nanyang Technological University, Texas Tech University, and Southern Arkansas University.