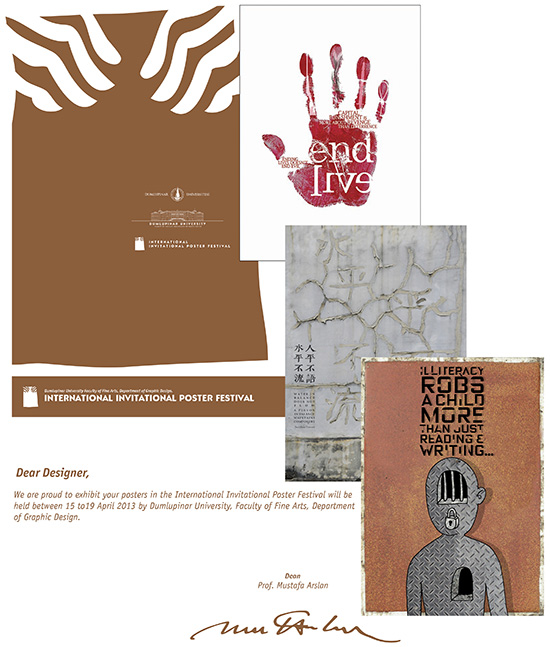 INTERNATIONAL INVITATIONAL POSTER FESTIVAL
,
I have been invited to submit up to 3 of my posters for the International Invitational Poster Festival at Dumlupinar University Faculty of Fine Arts Department of Graphics in Kutahya, Turkey. The honor came from Professor/Dean, Mustafa Arslan and organizers Mine Kucuk and Onur Askın. The exhibitions are extended to worldwide known designers who have proven themselves in the field of designs and was held between April 15 - 19, 2013. The objective of the festival is for the students to gain visual literacy, increase their knowledge and experiences and become aware of design approaches among cultures. As a result of the festival, it is expected that the students improve their sensitivities to design and they become self-confident individuals by joining international organizations. Click here for some of my recent events.
CONTACT YEOH
Interested in my work, or simply just want to say hi, try the methods below...


Email:kcyeoh@ntu.edu.sg

Skype ID: ohkasihkuusa

Facebook.

If you prefer to write:
31 Nanyang Link, #03-17, WKWSCI Building, Singapore 637718, Republic of Singapore.
Tel: +65-6316-8816


Some FAQs:
What do you do?
Advertising
Art Direction
Branding & Identity & Naming
Consultancy
Concept and Content Development
Curatorial Work
Design System
Environmental Design
Event and Exhibition Design
Furniture Design
Print
Packaging
Signage
Writing
Website Design

How many years of experience?
I have been involved in the field of graphic design since 1986 when it was called "commercial art" while as a student at the Malaysian Institute of Art in Kuala Lumpur, Malaysia and after I completed my BFA in San Francisco, I continued as a graphic designer in 1992 until now. I started teaching part-time in 1997 for a year at my Alma mater, the Academy of Art College in San Francisco before relocating to Southern Arkansas as an instructor for a year becoming a Teaching Assistant for 2 years while pursuing my doctorate in Texas. Before relocating back to Singapore, I had a short stint in Savannah for about year. I have been teaching at the present university, Nanyang Technological University since 2004.

How do you charge?
This question is like asking how much a house is. Every house is different. Likewise, charges vary as they are dependent upon a number of factors. And there's no exact formula but in general, it is based on hourly pricing or project-based, research time, complexity of the job, level of expertise, project specs, turnaround time, support and service, level of demand, physical location, etc.

How do you accept payment?
50% down payment prior to scheduling the work and the remaining 50% is payable upon completion of the project, prior to supply of original artwork.

Will a client's design be featured in your portfolio?
Yes, but it's not guaranteed that it will be included as I reserve the right to showcase your design and the process in my promotional work. If you wish not to be included on my site, that can be arranged too.

Do you provide pro-bono consultations?
Yes. It depends on the nature of the job and usually is reserved for non-profit organizations.

How do I contact you and what's the best way?
Go to "contact Yeoh" above to proceed. The best way is still via emails as I check them incessantly.