Ming Dynasty Hanfu
Post Date : 2013-08-22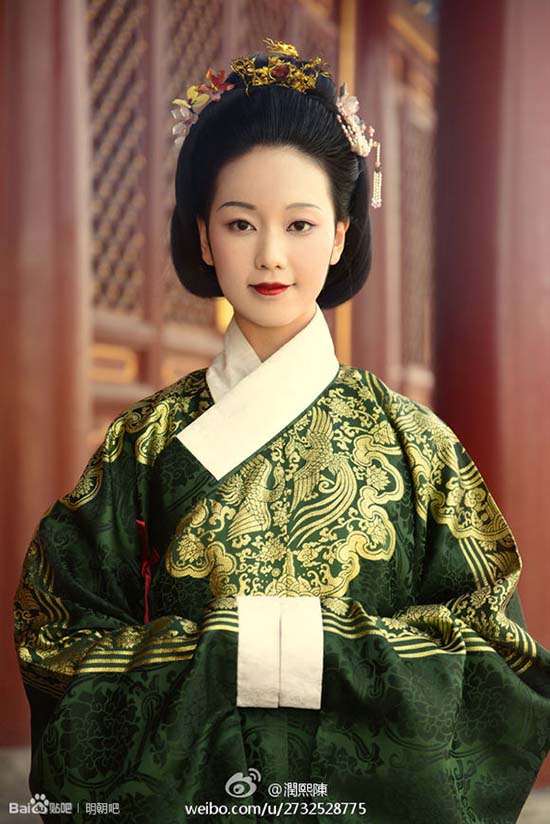 A refreshing Chinese TV program about Han culture
Post Date : 2013-01-28






A refreshing program from mainland China that talks about Chinese culture. The program is in Mandarin.






Ming-styled wedding costume in Taiwan
Post Date : 2011-12-01

According to New Tang Dynasty Asia-Pacific TV, an unusual wedding took place on November 2, 2011 where the couple wore traditional Ming-styled wedding costumes. These elegant and orthodox Chinese clothing are rare but a clothing designer in Nantou City has taken upon herself to learn to how to make the traditional wedding dress that has gone out of existence since the Ming dynasty, some 360 years ago and on their wedding day, the guests were in awe to witness the beauty of such traditional costumes.

More here.



Yuan Shi Kai's failed attempt
Post Date : 2012-11-09

In a short-lived attempt to restore a Chinese monarchy after the abdication of the last Manchurian emperor of China, Yuan ShiKai, an autocratic 1st President of the Republic of China is shown here wearing a Jifu (a variation of Hanfu worn only by Emperor when he pays homage to the Heaven) when he declared himself as the "Great Emperor of China" (中華帝國大皇帝) under the era name of Hongxian (洪憲; i.e. Constitutional Abundance). Arguably the masses had long been used to autocratic rule and a republic is a transitional phase, Yuan's rule had only lasted for 3 months until Yuan's death in 1916. The Hanfu movement today which essentially started 100 years ago had missed an great revival opportunity and the movement continues...


Hanfu Movement of the Republican Era
Post Date : 2012-11-09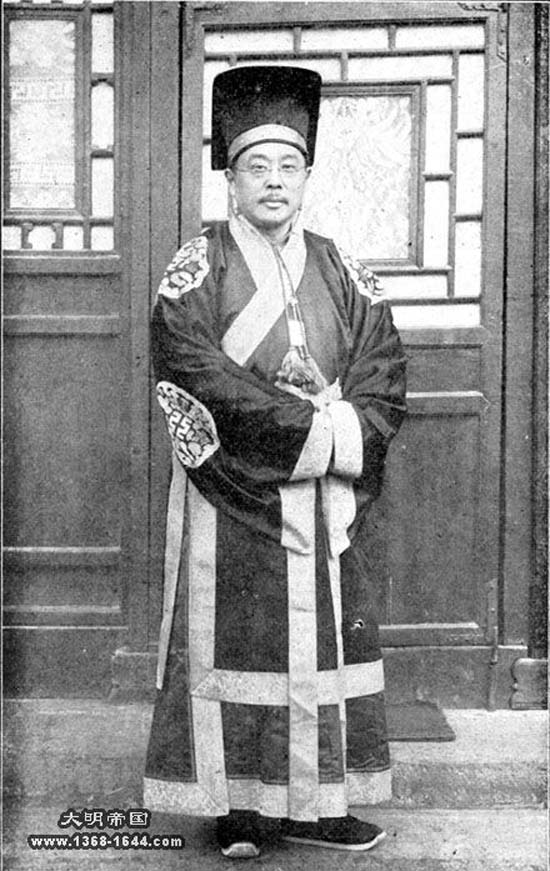 Read about why the Hanfu movement today is actually a continuation from a missed opportunity 100 years ago after the abdication of Puyi, the last Ching dynasty emperor who is Manchurian, a non-Han Chinese ethnic tribal group that overthrew Ming dynasty in 1644. Translated by Satsuki Shizuka 五月靜 (pseudonym) from the original Chinese journal article by Gao Xialing and Cheng Xiao-Ming, "Shi lun Qingmo Minchu Hanzhuang Fuxing de Jiyu [Brief Comments on the opportunity of Han's dress in Chinese modern times]", from Journal of Xinzhou Teachers University, Vol.21:3, Xinzhou: 2005.

Click here for a direct link to the article translated into English by Satsuki Shizuka.



Meanwhile, original Chinese versions can be obtained from Wanfang Data at http://d.wanfangdata.com.cn/periodical_xzsfxyxb200503018.aspx or http://d.g.wanfangdata.com.hk/Periodical_xzsfxyxb200503018.aspx, reposted in http://tieba.baidu.com/f?kz=52423925.


深衣 or Deep Robe graphics
Post Date : 2012-10-18

Confucius considered Hanfu a very important part of Chinese ceremony and rituals. Many of the earlier designs were gender-neutral but some basic characteristics of the button-free Hanfu have always included cross collars (left over right: yang over ying), wide sleeves, and binding with sashes at the waist.

A typical set of Hanfu can consist of two or three layers. The first layer of clothing is mostly the zhongyi (中衣) which is typically the inner garment much like a Western T-shirt and pants. The next layer is the main layer of clothing which is mostly closed at the front. There can be an optional third layer which is often an overcoat called a zhaoshan which is open at the front. More complicated sets of Hanfu can have many more layers. For footwear, white socks and black cloth shoes (with white soles) are the norm, but in the past, shoes may have a front face panel attached to the tip of the shoes

Shown here are the graphics for the front, back and inside of a Shenyi (深衣) or "Deep Robe". For more explanations about Hanfu, visit http://en.wikipedia.org/wiki/Hanfu

There is a movement in China that is slowly gaining support nationwide to reintroduce the Hanfu into festivities and as well as wide acceptance into public life.

Han follow suit in cultural renaissance by Stephen Wong of Asia Times online.

Hanfu Movement: Cultural Revival or Awkward "Time Travel"?



The origin of Hanfu movement
Post Date : 2011-10-31

Hanfu (汉 服) also known as Hanzhuang (汉 装), Huafu (华 服), or guzhuang (古装, which means "ancient clothing") refers to the historical clothing of the Han Chinese that have been worn for centuries before the conquest by the Manchurian tribe that formed the Qing Dynasty, ruling China from 1644 to 1911 BCE. As the second minority group that became the supreme ruler in a country where a vast majority are made of Han Chinese, they implemented a cultural genocide which effectively forced the Han Chinese to look and dress like Manchurians in two ways: by shaving the front of their hair and to tie the back portion of the hair into a pigtail as well as the banning of Hanfu which has been worn for at least 3,000 years.

Throughout China's long history, the clothing of the Han Chinese has undergone many changes but has mainly kept two main characteristics: the Y-collar with the left portion overlapping the right, as well as the lack of a button as this is done with ribbons. This was met with a strong rebellion from the Han Chinese who considered the hair as an extension of the body, a gift from the parents and is not filial to do so. Millions were slaughtered. Under the laws of Qing dynasty, the Han Chinese people under the reign of Qing government must wear queue and Qing costume and those who do not follow instructions face the death penalty.

Hanfu is currently used as a part of historical reenactment, festivals, hobbies, sports and cultural ceremonies. They can be often seen in television series, films and other forms of entertainment media. However, currently there is a movement in China as well as those outside of China to revive the extinct clothing. The argument is such that with 56 recognized ethnic groups of China, Han Chinese who made up 90% of the population do not have a costume. Though many believe that the Qipao or Cheongsam is China's national costume, it is relatively recent compared to China's thousands of years of history.

Hanfu is the traditional costume of the Han Chinese for thousands of years and the practice of wearing Hanfu has had the benefit of development and propagation of the traditional culture of China. One can wear Hanfu for festivals, weddings, birth parties, funeral or even as regular clothing but there are also those who mistook the costume as Japanese or Korean. Unfortunate for Chinese's nationalism which strongly disapproved of anything Japanese, the Hanfu has some resemblance to a Kimono. The Japanese Kimonos and Korean Hanboks were influenced by Hanfu, because historically these countries were part of Sinosphere. Korea's Chosen dynasty was heavily influenced by China's Ming dynasty that ruled from 1368-1644 CE whereas Japan was influenced by the Tang dynasty (618 - 907 CE).



Shanghai's Weiyang in Hanfu
Post Date : 2012-09-20

At the invitation of the Shanghai municipal party committee, Shanghai-based Han Weiyang cultural group volunteers staged a cultural performance and show in Hanfu (Han clothing). Their performance won praises from the audience. The Han Weiyang group has been promulgating the needs to get Han Chinese clothing into the community, into the business, and school as their long-term goal and such an exposure at the mall on August 18, 2012 had given them the opportunity to expose the public to the rich Chinese culture that has become distant in people's life.

For more about Han Weiyang, visit them at hanweiyang.cn

Source: http://tieba.baidu.com/p/1855072432


Modernized Hanfu
Post Date : 2011-05-13

Unless I could have a face to face interview with Hong Kong fashion designer, Vivienne Tam, these modernized versions of Hanfus could arguably be Kimono-influenced. However, judging from the Chinese traditions of wanting to modernize everything includng the de facto qipao which is derivative of the Manchurian costumes, this line of thinking could only render these two collections uniquely Hanfu. These were photographed at the Cityscape outlets in Ngong Peng, Hong Kong.


Hanfu activities in Toronto, Canada
Post Date : 2011-05-10

The Toronto Chinatown Festival 2010 was held on Spadina Avenue and Dundas Street West during the weekend of August 28 - 29, 2010. During the prestigious opening ceremony, guests included government representatives, sponsors and the media. Scores of people visited the 2-day festival and with nearly 80 stalls offering Asian specialties, crafts and delicacies, some 100,000 spectators were exposed to a variety of exciting multi-cultural performances including models wearing the Han Chinese traditional clothing (Hanfu) while performing graceful ritual demonstration that seem to hark back to ancient China. CCTV reported the event and featured the Hanfu as one of the highlights of the festival.

http://www.chinatownbia.com/torontoChinatownFestival/photosCh.asp


Hanfu activities in Toronto, Canada
Post Date : 2011-05-10

The paper reported the event attracted some 100,000 attendees where they were exposed to various food and activities at the Toronto Chinatown Festival. CCTV reported the event and featured the Hanfu as one of the highlights of the festival which is rightfully in tune with organizers' objective to foster cross-cultural understanding and harmony as well as raising public awareness about the multicultural society of Toronto.

http://hanfu.goodinfocopy.com/hfjtlr_worldj.jpg


Taipei Confucius Temple
Post Date : 2011-10-18

What a delight to the Confucius value alive and well in Taiwan at Taipei's Confucius temple where they perform ritualistic dance of Ya Yue. The show is divided into two portion with the second part for participants to dress and try out a few simple Ya Yue dance moves. Below are more information. Remember to check out the video.

Revitalizing Confucianism -- A Journey through the Confucius Temple. Display, Presentation, and Experience - Ancient Sacrificial Rites to Confucius.

Ceremonial States --Ya Yue dance
The Ya Yue Dance is an ancient Chinese dance performed mainly during ceremonies and it is the main school and model of Chinese ceremonial dance. All movements of this dance carry and communicate specific ideas and meanings thus expressing solemnity, peace, grace and elegance. The Ya Yue Dance is usually reserved for sacrificial rites and worship of the universe and ancestors, but is also performed on important secular occasions, such as court celebrations, upon the triumphal return of a general, and sometimes even to honor the training of solders and the hunt.

Yi Dance is a procession of music and dance in memory of the spirit of our Great Sage, which takes place on Confucius's birthday (28th of September) every year. On this day, the Confucius Temples around the world will perform the Yi Dance during the sacrificial rites. Here, at this event, we present the choreographed "Ya Yue Dance." The first session follows the traditional Yi Dance for sacrificial rites, and the second and the third sessions are choreographed Yi Dance.

Time: 2010.10/12 -- 2011. 7/23
Ceremonial States --Ya Yue Dance: 9:00 - 9: 30 pm, Tues. to Sat.
Venue: Taipei Confucius Temple (No.275, Dalong St., Datong District, Taipei City)
Temple website: http://www.ct.taipei.gov.tw
Event website: http://www.tct2560.com/eng/template/index.aspx


Hanfu craze: Rise of ancient dress
Post Date : 2011-05-12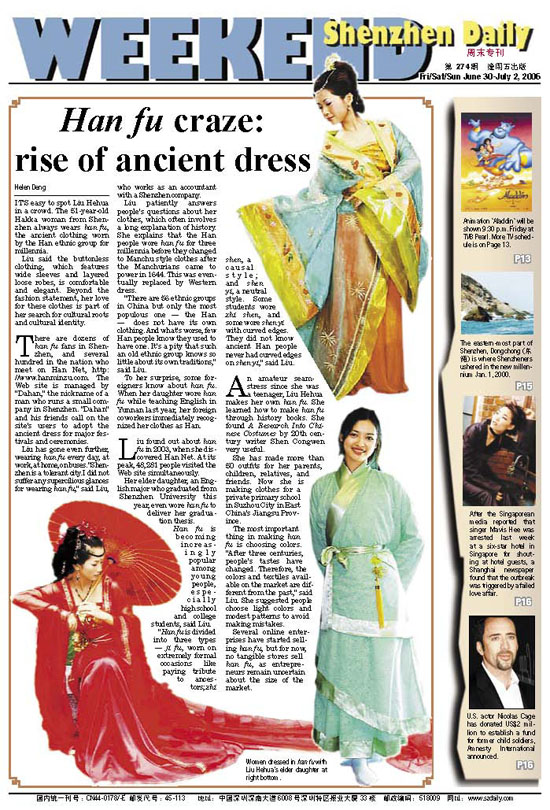 Shenzhen Daily, June 30 - July 2, 2006
Hanfu craze: Rise of ancient dress by Helen Deng.

It's easy to spot Liu Hehua in a crowd. The 51-year old Hakka woman from Shenzhen always wears Hanfu, the ancient clothing worn by the Han ethnic group for millennia.

Liu said the button-less clothing, which features wide sleeves and layered loose robes, is comfortable and elegant. Beyond fashion statement, her love for these clothes is part of her search for cultural roots and cultural identity.

There are dozens of Hanfu fans in Shenzhen, and several hundred in the nation who meet on Han Net, http://www.hanminzu.com. The website is managed by "Dahan," the nickname of a man who runs a small company in Shenzhen. "Dahan" and his friends call on the site's users to adopt the ancient dress for major festivals and ceremonies.

Liu has gone even further, wearing Hanfu every day, at work, at home, on buses. "Shenzhen is a tolerant city. I did not suffer any supercilious glances for wearing Hanfu," said Liu, who works as an accountant with a Shenzhen company.

Liu patiently answers people's questions about her clothes, which often involves a long explanation of history. She explains that the Han people wore Hanfu for three millennia before they changed to Manchu style clothes after the Manchurians came to power in 1644. This was eventually replaced by Western dress.

"There are 56 ethnic groups in China but only the most populous one - the Han - does not have its own clothing. And what's worse, few Han people know they used to have one. It's a pity that such an old ethnic group knows so little about its own traditions," said Liu.

To her surprise, some foreigners know about Hanfu. When her daughter wore Hanfu while teaching English in Yunnan last year, her foreign coworkers immediately recognized her clothes as Han.

Liu found out about Hanfu in 2003, when she discovered Han Net. At its peak, 48,281 people visited the website simultaneously. Her daughter, an English major who graduated from Shenzhen University this year, even wore Hanfu to deliver her graduation thesis. Hanfu is becoming increasingly popular among young people, especially high school and college students, said Liu. "Hanfu is divided into three types - Li Fu, worn on extremely formal occasions like paying tribute to ancestors; Zhi Shen, a casual style; and Shen Yi, a neutral style. Some students wore Zhi Shen and some wore Shen Yi with curved edges. They did not know ancient Han people never had curved edges on Shen Yi," said Liu.

An amateur seamstress since she was a teenager, Liu Hehua makes her own Hanfu. She learned how to make Hanfu through history books. She found A Research Into Chinese Costumes by 20th century writer Shen Congwen very useful. She has made more than 50 outfits for her parents, children, relatives, and friends. Now she is making clothes fora private primary school in Suzhou City in East China's Jiangsu Province. The most important thing n making Hanfu is choosing colors. "After three centuries, people's tastes have changed. Therefore, the colors and textiles available on the market are different from the past" said Liu. She suggested people choose light colors and modest patterns to avoid making mistakes.

Several online enterprises have started selling Hanfu, but for now no tangible stores sell Hanfu, as entrepreneurs remain uncertain about the size of the market.

www.szdaily.com


Modernized vs. Traditional Hanfu
Post Date : 2011-05-10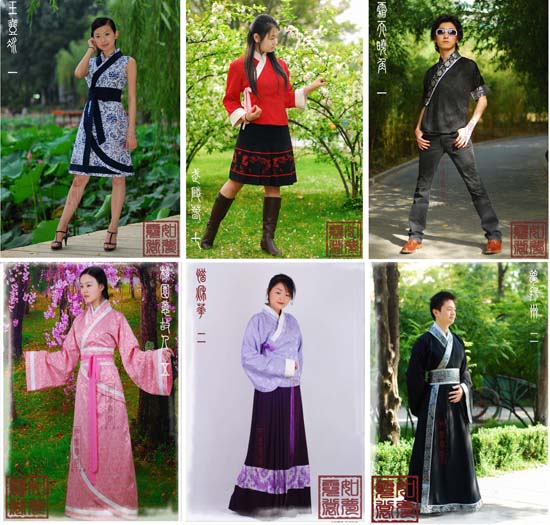 Since Hanfu was forced out of existence in 1644 when the Manchurian dynasty took control of China, the Hanfu has been denied a steady flow of time needed to cope with societal change. There are blogs that argue incessantly on both sides over issues of modernized vs traditional forms of Hanfu as seen in samples here sold online by retailer Rumenishang.com. Modernists think that it is simply impractical to wear traditional Hanfus with wide sleeves on a daily basis while purists argue that the costume is deeply tied to rituals and when Westernizing Hanfu in the name of modernizing, these values are lost. Not to be confused with modernizing as simplifying, I believe that simplifying a tradition is equivalent to watering down its effectiveness to be passed down to future generations. If they continue to water it down, then we'll have nothing left.


Ghee Hiang legendary babies in Hanfu
Post Date : 2011-09-04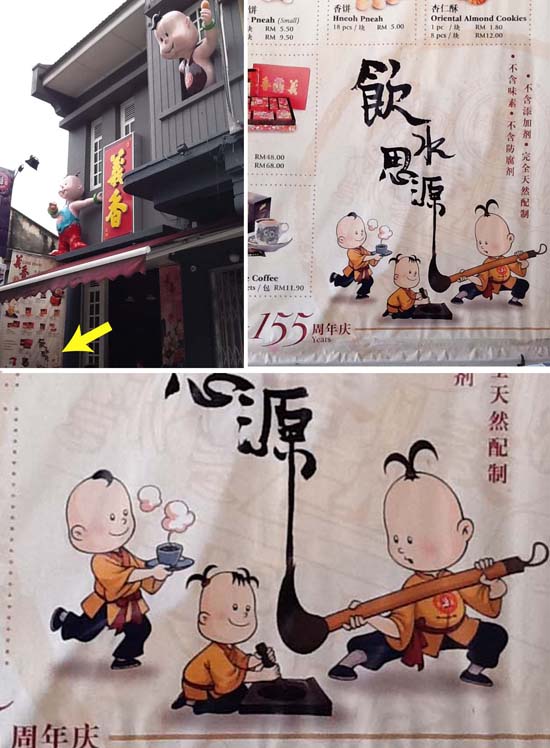 Spotted at one of the Ghee Hiang pastry stores in Penang, Malaysia, the poster shows the "Ghee Hiang legendary babies" merchandise, complete with dolls, figurines and T-shirts. I'm particularly impressed that they have included dolls that dress in both Hanfu and Manchu-based clothing.

For the uninitiated, Ghee Hiang's tradition of freshly-baked pastries goes all the way back to 1856 and they are famous for their oven-baked delicate "tau sar pneah", made with sweetened mung bean paste with a rich underlying aroma of fried shallots wrapped in a flaky light-golden pastry.

They are known not just for their biscuits. Through years of refinement and quality seeds selection they are also known for making one of the best sesame seed oils for it is believed that the "chi" of the oil helps mothers rejuvenate their energy. Apparently, the method and techniques used for their sesame seed oil were learned from Fujian.


Wedding and Coming of Age in Han traditions
Post Date : 2012-03-24

Follow the link below to read about a wedding and coming of age rite (in Mandarin) based on ancient Han Dynasty (206 BCE - 220 CE) taking place in Butterworth, Penang in Malaysia between a 25 year old bride and her groom who is a year older. The event took place on December 11, 2011.

Source: http://www.kwongwah.com.my/news/2011/12/11/18.html


A Hanfu store in Guangzhou
Post Date : 2011-05-10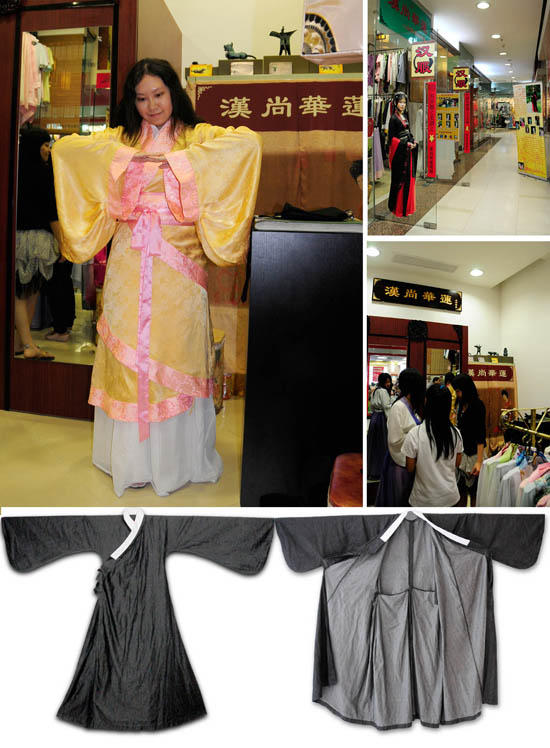 At the Metro Mall (Guang Ming) in Guangzhou lies a shop that specializes in Hanfu (Chinese costume) and accessories for men and women. Located opposite the KFC restaurant, the shop is on #217, 2nd floor of Metro Mall on Yuexiu District's Beijing Road. The store enjoys daily exposures as hungry shoppers who stopped at KFC would curiously notice Hanfu enthusiasts gathering around with the friends to try out ready-mades at the newly opened shop in July of 2010. They also offer modernized versions of Hanfu with shorter sleeves for the ladies but as for purists, I gladly paid for a scholar robe with matching hats when I visited the shop on August 15, 2010.

In order to expand the influence of Han Chinese clothing, they have been actively participating in traditional events such as the rarely seen traditional coming of age ceremonies and rites. For more and ordering online information, log on to http://www.ihanshang.com


Tiger in Hanfu
Post Date : 2011-05-10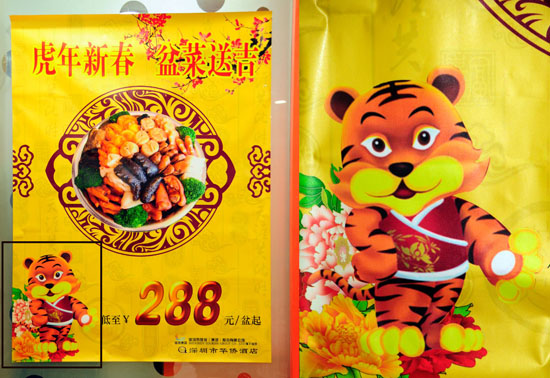 2010 is the year of the tiger and it was great to see an illustration showing a mascot dressed in Hanfu. Typically, the illustration would call for a Cheong-sam styled Chinese costume with Mandarin collars but it is refreshing to see a poster in a restaurant by the long distance bus station at Luo Hu, Shenzhen that celebrates the New Year with a mascot wearing a Hanfu.


Chinese Ancient Music - Guan Shan Yue
Post Date : 2013-09-22






This elegant music, literally translated as "Moon over the fortified pass" is from Tang Dynasty which was the most glistening historic period in China's history. Founded in 618 and ending in 907, the state, under the ruling of the Tang Emperors, became the most powerful and prosperous country in the world. Due to the prosperous cultural development in the Tang Dynasty, cultural exchange between China and many foreign countries was frequent. Many overseas students including Japanese and Korean students came to study in the capital Chang'an (currently Xian). If you find traces of Japanese or Korean not just in the tunes but also the clothes of these performers, it is because During the Tang Dynasty, the Japanese borrowed heavily from China and managed to preserve what is uniquely theirs but with traces that are derivative from ancient China over a thousand years ago.More here: http://www.travelchinaguide.com/intro/history/tang/culture-religion.htm




YEOH'S JOURNAL