Sharing Plates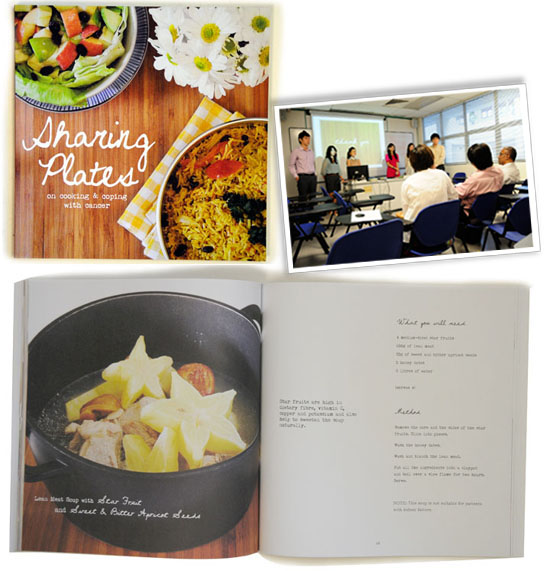 Co-supervised with Dr Angela Mak from the division of Public and Promotional Communication at the Wee Kim Wee School of Communication and Information, this project involved the creation of a cookbook entitled, "Cooking and Coping with Cancer." Unlike books on cooking with cancer which adopt a more medical approach with titles that include words such as "handbook", "diet" and "survival", this inspirational cookbook's unique selling point is the 12 poignant personal stories as told by cancer survivors with 40 recipes donated by cancer patients. This was a collective effort of six students' final year project that also incorporates patient education and public education elements.

The initiative was set up eight months ago in August 2010. The team conducted a nationwide telephone survey from September 21 to 30, 2010 on cancer organizations and cancer nutrition to find out about public perceptions of the nutritional needs of cancer patients. With over 700 respondents in total, the students found that the majority of the public believes that food is important to the quality of life of cancer patients. Ms Chang Yok Ying from the National Cancer Society Singapore assisted the students in selecting the recipes to ensure that the recipes in the cookbook are suitable for cancer patients - whether they are currently in remission or still undergoing treatment. Through Sharing Plates, these students hope to spread the message that cancer patients do not need to severely restrict their diets. Instead, they can have healthy, yet tasty, home-cooked food.

Publicity blitz has followed upon the completion of the book in March of 2011 with a campaign initiated to officially launch the book to members of the public. A total of 1,548 books were sold during the campaign period in collaborations with Borders and Kinokuniya. More than 450 cancer patients, caregivers and survivors reached and 36 media hits were recorded.

Learn more about Project Sharing Plates:
Facebook fan page: http://www.facebook.com/SharingPlates

Book sale at Borders: April 2-3(10am-8pm) Borders Bookstore at Parkway Parade. 9-10 April (10 am - 8 pm) Borders at Orchard Road.

Her World Online: http://www.herworld.com/women-now/your-health/more-just-your-average-cookbook

My Paper: http://health.asiaone.com/Health/Health%2BMatters/Story/A1Story20110401-271272.html

938LIVE Daniel Martin's Body & Soul:
"http://www3.ntu.edu.sg/CorpComms2/clips/FM938-Sharing%20Plates%20Cancer%20Cook%20Book.mp3.

Due to the size of six final year students, a special category for grading was created to have 50% for campaign, 30% for the book and the remaining 20% for report and oral defense. Students Rhys Lim Shu Yin, Ng Jia Min, Rachel Tan, Joan Kuang, Goh Jien and Kuek Jinhua defended their work before a 3-moderators panel consisting of Drs Arul Chib, Liew Kai Khiun and Cherian George in addition to the two of the supervising professors.

Colors and Typography in Facial Wash Packaging Design: Impact on Purchase Intent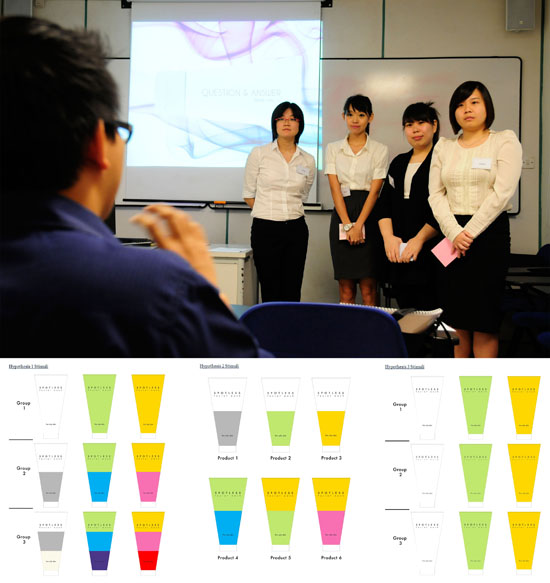 Co-supervised with Dr Kim Hyo Jung from the division of Public and Promotional Communication, this final year research project aimed to contribute to the design and marketing literature by shedding more light on how two design elements, namely typography and color, can impact on the appeal of a product and consumer purchase intent. With ever-growing competition, the highlight of a good industrial product no longer rests solely on the fact that it is a well-designed, functional product. Marketers and designers can use the data to form more well-informed decisions when it comes to conceptualizing the look and feel of facial wash products or other similar Fast Moving Consumer Goods (FMCG).

The main objective of the study was, firstly, to find out the current trends and patterns of facial wash product packaging design. Secondly, to put these existing patterns and trends to the test, to ascertain if they are indeed most appealing to consumers, and, in turn, whether they will affect the customers' intent to purchase the product. The results prove that only colours play a significant role in expressing brand personality. Students May Chua Sijia, Angelynev Koh Chwee Min, Becky Lo Pui Ki and Loh Jiahui defended their final year project on May 3, 2011 before two other moderators: Drs Suwichit Chaidaroon and Jung Younbo.
Cyberbullying: Bystanders' Response Strategies and Motivational Factors
Co-supervised with colleague Dr Wonsun Shin, this public and promotional research is about cyberbullying which is a specific form of bullying, is a rising global phenomenon. Studies have suggested that bystanders possess the ability to effectively stop cyberbullying occurrences. However a large proportion of bystanders are unlikely to adopt reactive responses in reporting their peers' cyberbullying experiences. There has been little literature that provides a deeper understanding of how bystanders formulate their coping strategy towards their when they encounter their peers being bullied. This study aims to investigate the circumstances under which bystanders (youths) will be motivated to intervene in the cyberbullying instances. It uses the model of Theory of Planned Behavior (TPB) to find out whether the components (Attitudes, Subjective Norms and Perceived Behavioral Control) play an influencing role in motivating bystanders in their behavioral intentions, which is, to report their friends' cyberbullying episode.


The five behavioral intentions were: telling a teacher, telling parent(s), telling friends, telling others, and telling the bully to stop. This study was conducted on 605 secondary school students in Singapore. Significant relationships are identified with the three components of TPB, with perceived behavioral control (self efficacy) being the relatively strongest predictor in all behavioral intentions. Several demographic variables were also found to have correlations with certain types of behavioral intentions. Based on the results, this paper will make recommendations to policy makers and marketers in devising policies, programs and campaigns to address the cyberbullying issue in Singapore. It can also be used to evaluate existing cyberbullying policies, programs or campaigns.

Students Foo Chen Chin, Mohamad Heikel Bin Kharsani, Lee Shuxian and Sumita d/o Sreedharan defended their thesis on May 3, 2011 before Drs. Fernando Paragas and Shirley Ho, in addition to the two supervising faculty members.
Incubation: The merits of work-life harmony to creative individuals in Advertising
Co-supervised with colleague Dr Suwichit Chaidaroon from the division of Public and Promotional Communication, the applied research aims to look at the work/life conflict of art directors and copy writers in the advertising industry.

Creative individuals (i.e. copywriters and art directors) face many challenges, some unique to the advertising industry, in their attempt to meet the competing demands of their work and personal commitments. The study examines the various work-life conflicts that creative individuals in Singapore face, the factors that contribute to these conflicts, and the relationship between work-life harmony and creativity. In-depth interviews with four human resource personnel and eight creative individuals were conducted, and the websites of 17 advertising agencies were content-analyzed. The Grounded Theory approach was employed for the data analysis of the study as it allows for a holistic exploration and flexibility for new emergent themes. Findings reveal tow key factors preventing creative individuals from attaining work-life harmony - the inability of creative individuals to separate work from their personal life, and unpredictable factors related to the nature of the advertising industry. There is a need for agencies to place greater importance on helping employees achieve work-life harmony (i.e. introduce official work-life policies, flexible work places) as it is a key factor in employee retention and the idea generation process of creative individuals.

The paper was submitted for consideration to the American Academy of Advertising 2011 Asia-Pacific Conference on November 19, 2010 and was formally accepted on January 25, 2011 for presentation in Brisbane, Australia, June 8-10, 2011.

Celine Tham Xue-Li, Tsang Wing Han and Cheryl Chan Yu Pei defended their final year project on May 3, 2011 before Drs Wayne Fu and Mark Cenite, both from the Communication Research division.
YEOH AS EDUCATOR

- MY STUDENTS' CREATIONS
- MY WRITINGS



Select below to view my students' awards as well as their creations from Nanyang Technological University, Texas Tech University, and Southern Arkansas University.