Brick by Brick
Advertising students Charlene Low Ying Xiu, Seng Qian Ling Stellina, Sufiyan Bin Sulaiman and Seet Seng Joo Sean are a group of final year students helping Boys' Town to upgrade its facilities "brick by brick." They will do this by selling T-shirts bearing unique designs by local designers. Their website - brickbybrick.sg - was launched a week ago and currently has T-shirts of four different designs for sale. Priced at $23.50 each, the T-shirts were designed for free by local designers whom the team found through friends and internet forums. An estimated 700 T-shirts have been sold so far. Mr Seet added that they chose the home as it was "one of the few private charity organizations to help underprivileged youths and not funded by the Government." The name for the campaign came about because the funds will go towards building costs. The group is also selling decals and plans to expand the merchandise range to include badges, canvas bags and caps.

Article appearing in The Straits Times Saturday, January 7, 2012 Page B20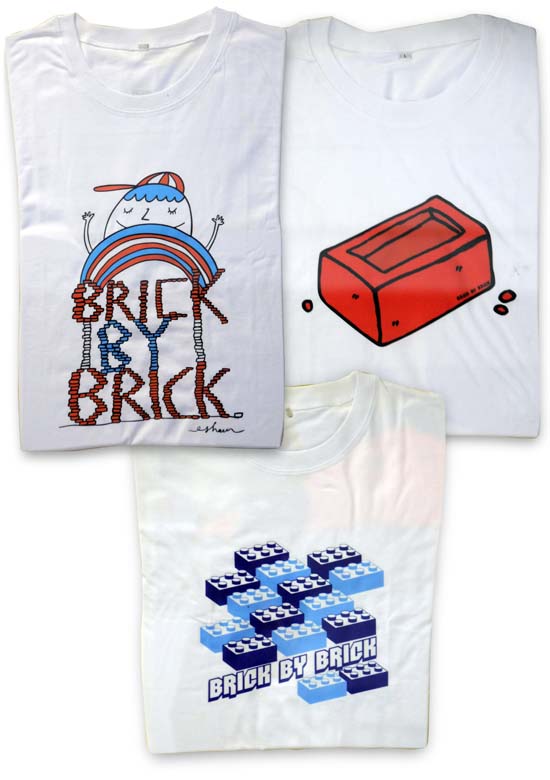 To reach their target, they will have to sell about 2,000 T-shirts, which are made by a local company. It will be a challenge but when the four were brainstorming ideas for their project, they were adamant that they would do something that meant more than grades, said one of the students, Mr Sean Seet.
Float Like A Butterfly, Sting Like A Bee
BOYS AND THEIR TOYS by Joel Lim (Behind the scenes) from FLABSLAB on Vimeo.
Cheng Xinyi, Zhang Yunxi, Tsen Si Jia Audrey and Tee Hui Sheng Derrick are a group four students who propose to create a campaign for FLABSLAB (Float Like A Butterfly, Sting Like A Bee), a brand owned by Nerf Creative Pte Ltd (a design agency based in Singapore) to promote the local arts scene by focusing on art exhibitions and merchandise. Currently, FLABSLAB lacks the platform to showcase the work that they have, as it has not been officially launched or publicized. Their role in executing this campaign would include but is not limited to:
- Conceptualization of initiatives to promote the FLABSLAB brand
- Undertaking of PR tasks such as planning project timelines, writing press releases, pitching stories to the press, and generating visibility for the brand
- Organizing exhibitions
- Collaboration and liaison with local and international artists to produce work for exhibition and sale
- Creating merchandise for commercial purposes or charity
- Holding events to foster interest in the local arts scene

A total of two exhibitions were mounted by the students:
ALL OR NOTHING
One or Nothing' was the first solo exhibition in Singapore for Indonesian artist Arkiv Vilmansa's. It is also the first of FLABSLAB's shows, officially opened on 10 Nov 2011 at White Canvas Gallery. The exciting line-up of events included a student dialogue session where Arkiv shared his thoughts and inspirations with local students, and drawing collaborations between Arkiv and two of our homegrown talents - Eeshaun and Wanton Doodle.

BOYS AND THEIR TOYS
Dubbed "Boys and their Toys," the works centered around tastefully portray women and some of the most rare and coveted toys in the world. Consisting of 12 large format prints by the 2010 ELLE Photographer of the Year Joel Lim, the exhibition offered exclusive distribution of the works in a limited-edition calendar book. Free and open to the public, "Boys and their Toys" were on display January 6-13, 2012 at FLABSLAB.
YEOH AS EDUCATOR

- MY STUDENTS' CREATIONS
- MY WRITINGS



Select below to view my students' awards as well as their creations from Nanyang Technological University, Texas Tech University, and Southern Arkansas University.