KFC & KFC-inspired
Post Date : 2011-05-10

Spotted in Guangzhou's main train station, Mr Lee (bottom), a Chinese fast food restaurant, while may not be as blatant in terms of graphical elements compared to a restaurant in Shanghai's Dong Fang/ Lancun streets with similar aprons worn by the Colonel himself, these icons seem to endorse our Eastern social acceptance of motherly and fatherly figures with a western capitalism figurehead underneath.


Billboard in Teochew
Post Date : 2011-05-10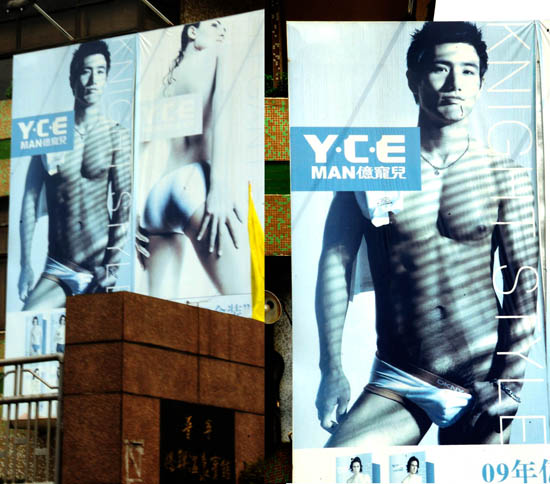 It's exhilarating to see China embracing an open attitude in this giant billboard showing an underwear male model with a rather suggestive pose. Notice how low the underwear was pulled down to reveal what was supposedly the underwear was supposed to cover. To make it more surprising, this photo was shot outside a hotel next to a long distant bus stop in provincial Teochew, Guangzhou in southern China.


Silhouette well employed
Post Date : 2011-05-10

Seen from a worm's eye view, these silhouettes employed as a design motif on the rooftop of this building uses a powerful tactic learned from movie making. The angle makes an object, in this case, a sports retail store on Xihu Road in Guangzhou, China look tall, strong and mighty. It creates an impressionable relevance to the nature of the store's business.


Soup in bun
Post Date : 2011-05-10

Sold as delicacies in Shanghai's Yuyuan garden, these buns are not only unique as it holds hot soup, steamed within a circular bamboo holder. Sold for only 15 - 18 Yuan (US$2.20 - 2.60) per piece, each bun comes with a straw for sucking out the soup inside the bun.


Kungfu food
Post Date : 2011-05-10

What has Bruce Lee or Kungfu has to do with food? Nothing other than the fact that Bruce Lee is a popular icon and a good representative of Chinese worldwide, especially in the Western as well. The icon with simple outlines and striking colors render the restaurant recognizable and memorable.


Friendly police mascots
Post Date : 2011-05-10

Police are feared in some countries. Long associated with bribery, abuse of power, violent brutality, particularly in the case of Rodney King who was famously the victim of the Los Angeles Police Department (LAPD) abuse caught on tape on March 3, 1991, we are apprehensive when it comes to having to deal with the police. However, these icons at police station near Sejong-no in Seoul where one of the major tourist attraction of Gwanghwamun is located at, are refreshing whereby the Seoul police seemingly want to be associated with friendliness or courtesy.


LED facades in Seoul
Post Date : 2011-05-10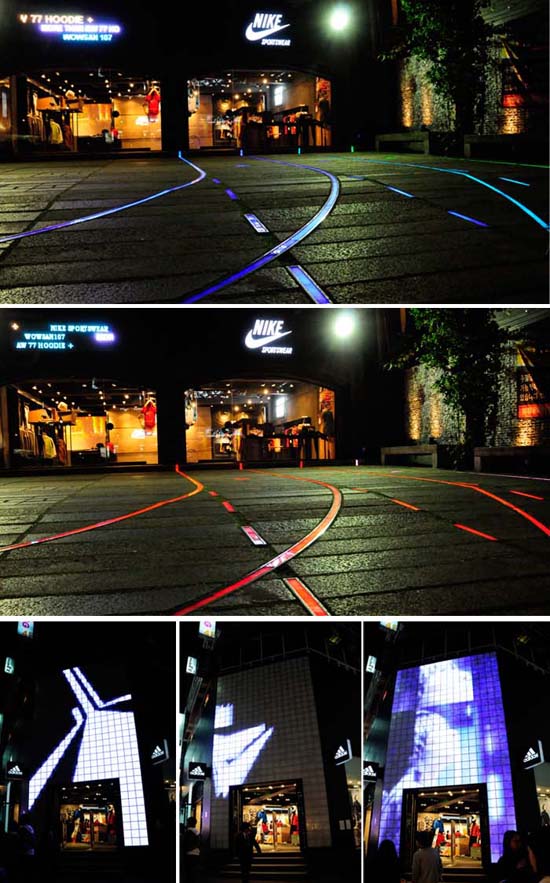 It seemed that sport giants like Nike and in Seoul's trendy Hongik University area and Adidas at the youth-infested Myeondong area pulled every technological trick in their hats to wow every passerby by using LED techology to illuminate the facades of their stores. Adidas uses the entire facade to relive stories of athletes punctuated with moving stripes commonly found in their logo while Nike uses a simple track with planted LED on the ground that changes colors every second


The whole is greater than the sum of its parts
Post Date : 2011-05-10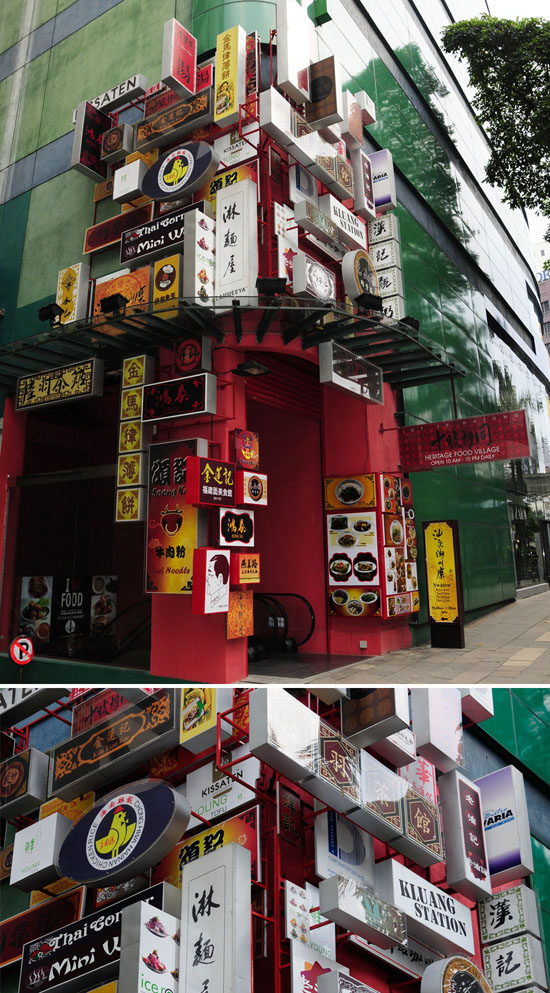 The Gestalt theory states that the whole is greater than the sum of its parts and I found this to be true in the case of these mini signages hoisted above the entrance that leads to the food court at the basement of Isetan foodmarket in Kuala Lumpur's Lot 10 shopping center. For some reasons, the opposing symmetry makes aesthetical sense and these signages, though competing, formed an all-around, balanced composition that caught my eye when I was in the Malaysian capital in October of 2010.


Adcalator
Post Date : 2011-05-10

According to the company's URL, adcalator.com, it is a multifunctinal and advanced advertisement media that can be mounted on the escalator or moving walkway. In addition, it has a sanitary function with both on and offline system. Spotted in the Coex Mall in Seoul's Gangnam area, I first though that it was some sort of safety device on the escalator but in a place with heavy traffic, it could possibly be overlooked and if it wasn't, it could be a hazard for someone who may tripped over for not paying attention to the moving steps on the escalator.


Playful facade in Seoul
Post Date : 2011-05-10

These playful facades found in Seoul's (clockwise) Garosu-gil street and Myeongdong reflect the need for businesses to create retail atmospheres that are synchronous with both the inside and the outside to better reflect the nature of the business. In that way, their customers are more compelled to shop as these facades seem to call out in visually pleasing graphics and themes that reflect the personalities of their potential customers.


Playful facade in Seoul
Post Date : 2011-05-10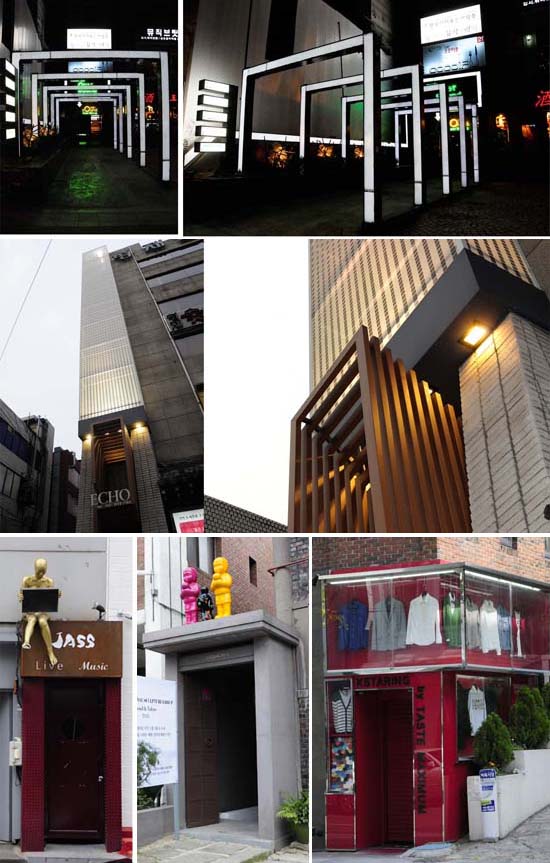 When space is prime and some businesses are confined to retail spaces above the ground, the only exposure is through the entrance into the establishment as reflected here in a similar fashion where rectangular shapes are laid one after another. These further act to extend the presence of the store and while they are simple, they are quite effective in grabbing the attention of a passerby. Others rely on mannequins, works of art and actual products as reflected in these playful facades here.


Playful facade in Seoul
Post Date : 2011-05-10

When traditionally regarded as respectable profession that demand professionalism due to hygienic issues such as this dental office in Seoul's Sinchon/Ewha began to decorate their facade with a rather suggestive but playful shape of a molar probably due to the area's hip college town that cater to all university students looking for fashion, food and a little fun, they have really understood the importance of a facade. Other examples (on top) include the curtain-like metal decoration with big wide glass facade that exposes the two levels of the store for an inviting presence. Hongdae's KT & G Sangsang Madang provides a support to artists for cultural and artistic activities and its unique facade of partially exposed glasses and web-like concrete wrap the building in a unique fashion that seems to tease passerbys from outside to visit the cultural with its partially revealed interior.


Cool Nike store
Post Date : 2011-05-10

Just like the streets in Omotesando Hills (表参道ヒルズ, Omotesandō hiruzu) in Japan, this shop adjacent to the ZhongXiao road in Taipei with this its eye-catching LCD changes every 2 seconds to show graphics of athletes in action. The same shoes are aligned in a linear manner, further extending the dimensionality of the store to passerbys.
YEOH'S JOURNAL