European vs Indian W/C
Post Date : 2015-04-30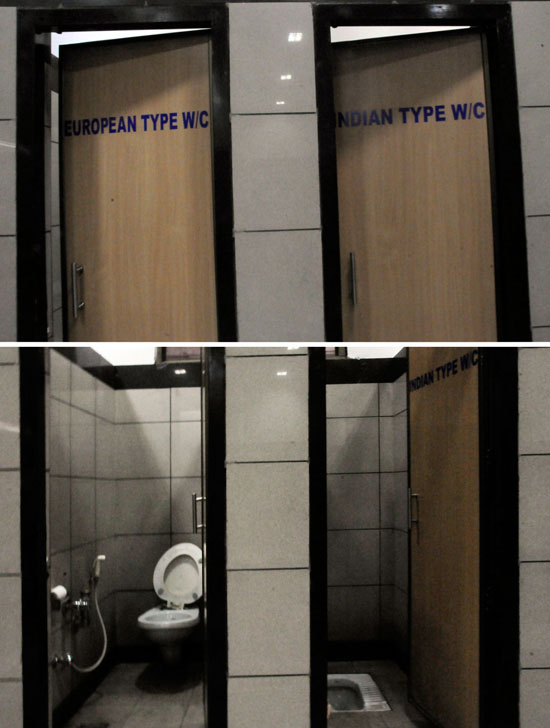 Ever wonder what's the difference between a European toilet and Indian's? The answer was presented right in front of me when I walked into a domestic airport in Ahmedabad before flying to Jaipur in India. Come to think of it, although India's (or as a matter of fact) part of Asia's, is not as comfortable as it requires one to squat, our behind doesn't with any contact with the surface just like the one of the European's. I know presentation is important but I'm all for the lesser contact of the germ-inundated surface.


Toilet in Taipei
Post Date : 2015-04-30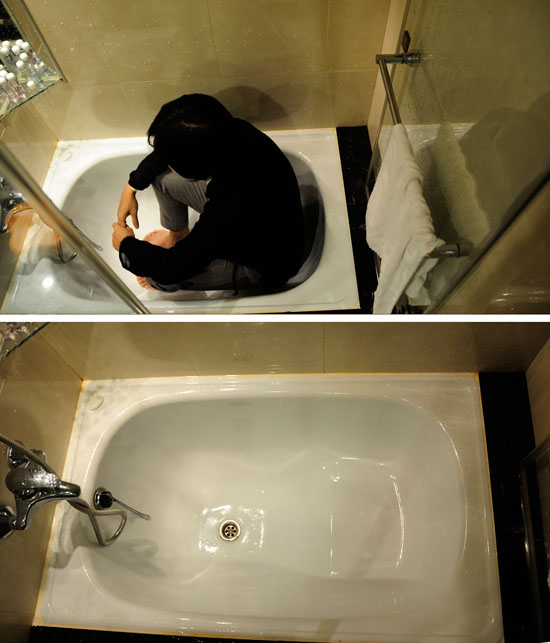 It seems space in any major metropolis in the world is prime as evident in this hotel called Hyatt Fortune Hotel, located in Taipei, Taiwan. Sadly, it reminds me of the cramped space of an airline. I guess, one can still dip in water...


Jaipur roadside public toilet
Post Date : 2015-04-30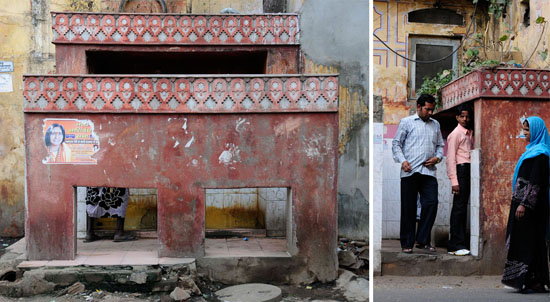 Sorry ladies! We didn't build a toilet here. While they bothered to decorate the open toilet with motifs, this toilet is not only an eye sore, hygienic and dirty, facilitating the breeding ground for diseases. The authorities, in charge of public facilities and conveniences, bother none, or little, about keeping them clean, sanitary and free from horrible smell. The state of these public toilets is awful; both hygienically for users and environmentally pollutant and humiliating for neighborhoods, considering the fact that the city Jaipur, India is famously known for its pink city walls. According to the World Toilet Organisation, a Singapore-based organization, an average person visits a toilet 2,500 times a year and spends about three years of his life in toilet. The organization believes that toilets indicate culture and civility as they are not merely compost holes but are also places for concentrating, resting and conversations for civilized people.


Toilets in Japan
Post Date : 2015-04-30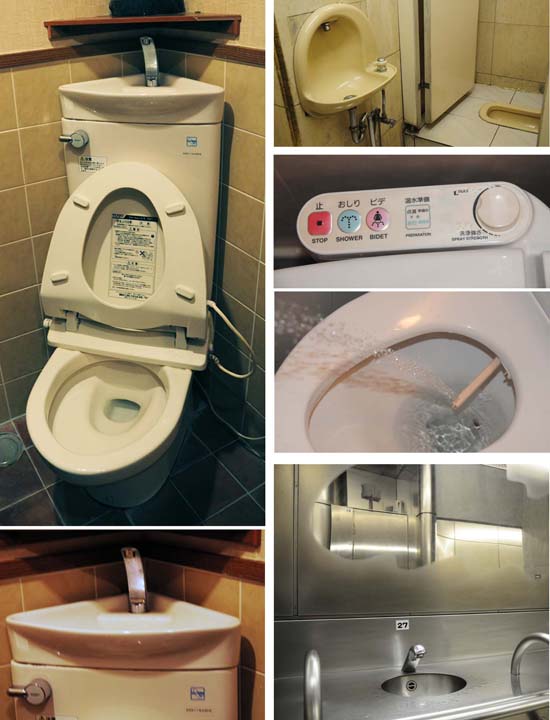 In space-tight Japan, especially in Tokyo, toilets are transformed from a basic fixture that consist usually of a water-flushed bowl and seat to new levels of creativity. The Japanese pride themselves with cleanliness and have always taken things to a new level.

Clock-wise from top left, this is an ingenious design. When I washed my hand in this tiny toilet, I noticed that the water was "recycled" to fill the tank below it which is used for flushing later.

Good things come in small packages for this little basin, locatred right outside a toilet in a restaurant.

The bidet in my hotel room in Shinjuku is equipped with a controller that allows for one to control the spraying strength of the water.

I'm particularly in love with this stainless steel wall at a train station which is sanded into such a reflective surface that doubles as a mirror.


A toilet outside Beijing
Post Date : 2015-04-30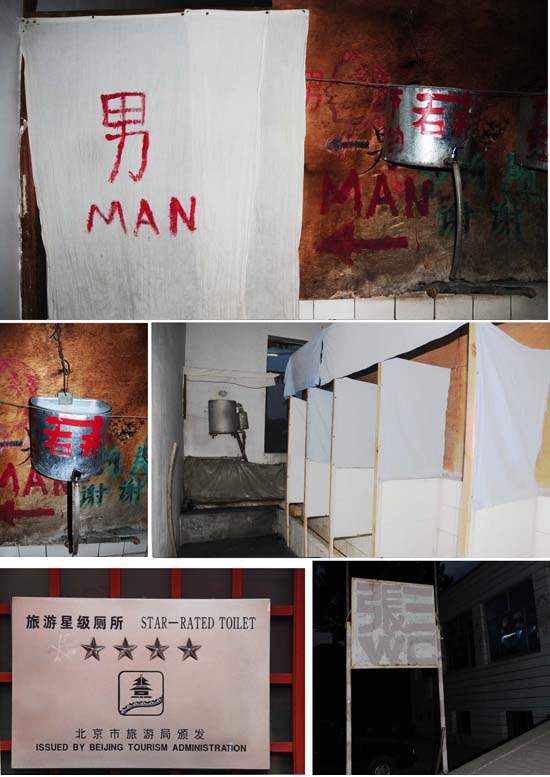 Outside of the Beijing city limit, space is not a problem but water is. The creativity involved in this toilet in the middle of a small village and the metropolis of Beijing is all about living with limited water supply and Chang San proudly displays his "WC" sign outside his stop-over shop for tour buses to stop by. In his shop are some jade products and finger foods. Needless to say I was baffled to see such an unhygienic presentation, especially when this toilet is meant for tour guides to bring unsuspecting tourists for toilet breaks.

On the lower left is a sign outside a toilet in the Palace Museum with a placard that proudly displayed that it is a "Star-Rated Toilet". Now I understand why such a sign is so important especially when it's issued by the Beijing Tourism Administration.


A little step closer
Post Date : 2015-04-30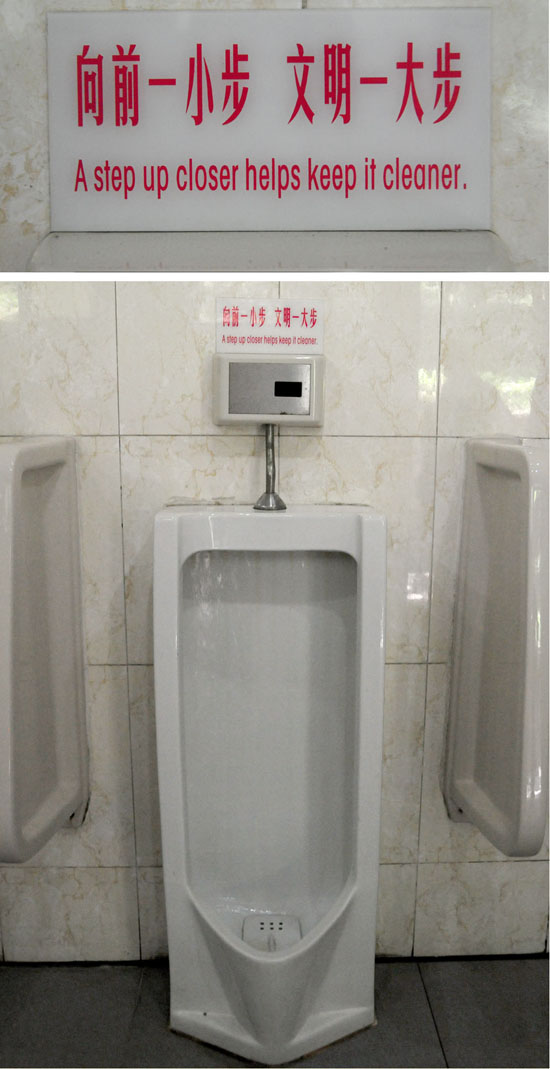 This urinal in Beijing has a sign to remind its users that a little step forward makes it cleaner but there's always some translation problem. In Chinese, it literally means, a little step forward, a major step in civilization. I hate stepping on someone's urine and it usually starts with someone not "aiming" it right. When it comes to the hose that nature has equipped men with, we're still have problem targeting. Beats me!


A fly in the urinal
Post Date : 2015-04-30

This urinal in Changi Airport in Singapore features a fly as a target for men to aim. First, I really thought there was a fly down there but upon close inspection, it turned out to be a smart thing in the design of this urinal. It gives me something to focus on and when that happens, the floor becomes urine-free.


Door-less toilets
Post Date : 2015-04-30

When Wee Kim Wee School of Communication & Information renovated the toilets on all the floors, the new ones "intelligently" features door-less toilets. At first, this may seem socially unacceptable but from a hygienic point of view, germ-infested, wet door handles situations can be avoided. Air ventilation is maximized without any blockage to the entrance. Instead of "male" in addition to a symbol, the simple looking toilet features universally known icons while inside, the toilets are equipped with bidets. Sweet!


Two squirts
Post Date : 2015-04-30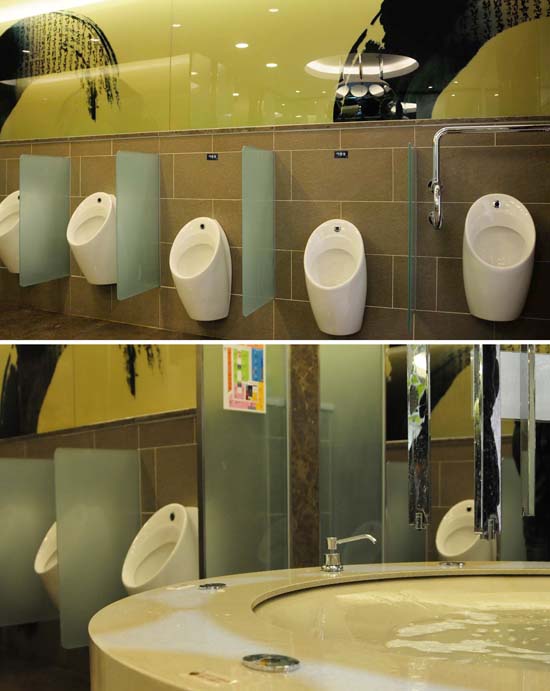 Male toilets in Seoul in general give two squirts of water, one when it senses something in front of the urinal and the second one right it senses that the user has finished (by leaving the sensor unblocked) This particular toilet is the one located at Gwanghwamun area at a bookstore called Kyobo.
YEOH'S JOURNAL